Welcome to PTEPTA Online!
First time here? Create a New User log-in to access the online ordering forms and buy from our online store. You do not have to be a PTA member to create a log-in.
Already a PTA member but never logged in? Create your login with the same email address you used to sign up for the PTA to connect your account and receive member pricing on Spirit Wear!
---

SPRINGFEST TICKETS ON SALE NOW!!!

Last Week's Highlights

Reading Buddy-A-Thon- Our library fundraiser has been extended until February 11th. The money raised will be used to purchase new and updated books for our Library! Click here for more details.

Lo más destacado de la semana pasada

Reading Buddy-A-Thon- Nuestra recaudación de fondos de la biblioteca se ha extendido hasta el 11 de febrero. ¡El dinero recaudado se utilizará para comprar libros nuevos y actualizados para nuestra biblioteca! Haga clic aquí para más detalles.
Coming Up This Week

Monday, February 7- Friday, February 11

- National School Counseling week

Tuesday, February 8

- Virtual General member PTA Meeting

Wednesday February 9

- Last day to submit talent show forms

Saturday, February 12

- Service Saturday

Lo que viene la próxima semana

Lunes,febrero 7- viernes, febrero 11

-Semana Nacional de Consejería Escolar

Martes,Febrero 8

- Reunión virtual general de la PTA

Miércoles, Febrero 9

- Último día para enviar formulario de concurso de talentos

Sábado, Febrero 12

- Sabado de servicio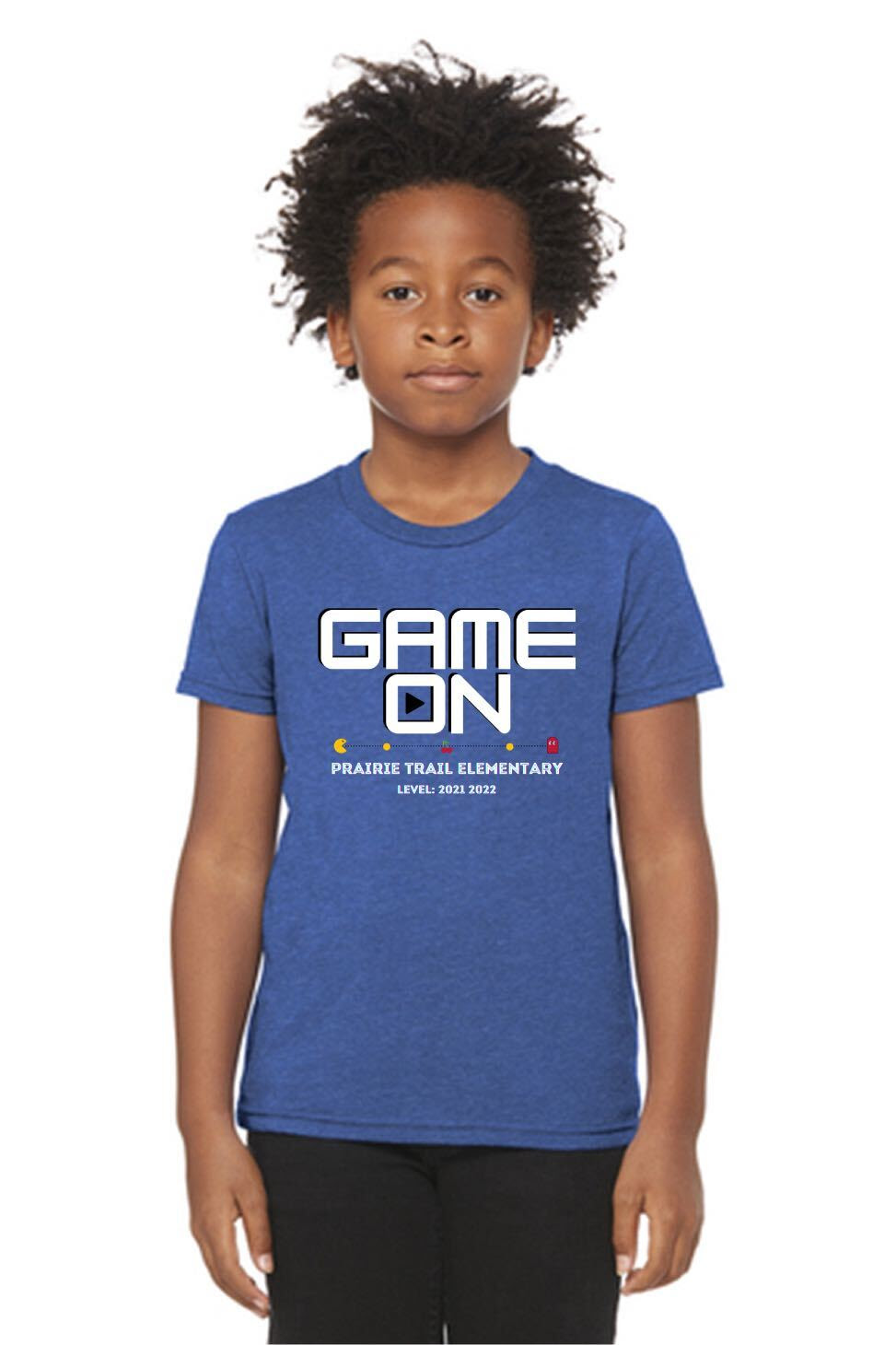 Spirit Wear 2021/22

Back for a limited time so click here to place your orders NOW! To access member pricing, you need to purchase a membership first before ordering! Thanks for your support.

Any questions may be directed to our president, Melinda Woolley, by emailing president@prairietrailpta.org.

Ropa Espíritu 2021/22

¡Regreso por tiempo limitado, así que haga clic aquí para hacer sus pedidos AHORA! Para acceder a los precios para miembros, primero debe comprar una membresía antes de realizar el pedido. Gracias por su apoyo.

Cualquier pregunta puede dirigirse a nuestra presidenta, Melinda Woolley, enviando un correo electrónico a president@prairietrailpta.org.
PTE Staff Amazon Wishlist

If you haven't already please take a minute to consider buying something off this Amazon wish list for our PTE staff. You can sort the list by item priority. Things will be sent directly to the front office so they can put them in the lounge. Thanks everyone for your continued support and for being awesome!

Lista de deseos en Amazon del personal de PTE

Si aún no lo ha hecho, por favor tóme un minuto para considerar comprar algo de esta lista de deseos de Amazon para nuestro personal de PTE. Puede ordenar la lista por prioridad. Las cosas se enviarán directamente a la oficina para que puedan ponerlas en el salón. ¡Gracias a todos por su continuo apoyo y por ser increíbles!
Valentine's Day Class Parties

The Valentine's Day class parties are coming up soon and we could use your help to gather up some of the supplies we need for each classroom to have their very own party.

Parties will be held in individual classrooms again due to the current covid protocol. The PTA will be providing a craft, treats, and games/activities. We just need your help to supply a few prizes & paper goods to make the parties a little extra festive.

Click here to see the list of items and donate an item or two if you are able! Items should be dropped off at the school anytime Monday (2/7) - Wednesday (2/9) between 8:30am and 2:30pm in the carts outside the office.

*Students may bring valentines to exchange, but they must be brought to school by Thursday, February 10 in order for them to quarantine prior to class party. If your child brings Valentines they must bring one for every student in their class.*

Fiestas de San Valentín

Las fiestas del Día de San Valentín se acercan pronto y nos vendría bien su ayuda para reunir algunos de los suministros que necesitamos para que cada salón tenga su propia fiesta.

Las fiestas se realizarán nuevamente en aulas individuales debido al protocolo covid vigente. El PTA proporcionará manualidades, golosinas, juegos y actividades. Solo necesitamos su ayuda para proporcionar algunos premios y artículos de papel para que las fiestas sean un poco más festivas.

Haga clic aquí para ver la lista de artículos, ¡y done uno o dos artículos si puede! Los artículos deben dejarse en la escuela en cualquier momento desde lunes (7/2) al miércoles (9/2) entre las 8:30 a.m. y las 2:30 p.m. en los carritos afuera de la oficina.

*Los estudiantes pueden traer tarjetas de San Valentín, para intercambiar pero, deben ser traídas a la escuela antes del jueves 10 de febrero para que esten en cuarentena antes de la fiesta del salón. Si su hijo trae tarjetas de San Valentín, debe traer una para cada estudiante.*
Copy Room & Lunchroom

February signup is now open! Please consider signing up for a day to help our staff! Everyone is extremely grateful for any and all help we are able to provide. So please keep an eye on the sign ups.

-Click here to sign up for the copy room

-Click here to sign up for the lunch room

Please be sure to use a computer or tablet instead of your cell phone when signing up through Voly. If using a cell phone with Voly, available dates may not be accurate, and any dates you sign up for may not be saved.

Sala de fotocopias y Hora de el almuerzo

¡La inscripción de febrero esta abierta! ¡Considere inscribirse por un día para ayudar a nuestro personal! Todos están extremadamente agradecidos por toda la ayuda que podemos brindar. Por favor, esté atento a las inscripciones.

- Haga clic aquí para la sala de fotocopias

-Haga clic aquí para la hora de el almuerzo

Asegúrese de usar una computadora o tableta en lugar de su teléfono celular cuando se registre a través de Voly. Si usa un teléfono celular con Voly, es posible que las fechas disponibles no sean precisas, y es posible que no se guarden las fechas en las que se registre.
Ways to help!

The annual Spring fest and Silent Auction are the most profitable events of which all the proceeds come to our school PTA!

Ways YOU can help:

Donate funds for your class basket
Your employer would be willing to donate an item, gift basket, or gift card
You have your own business and would like your product/service showcased to our community
You have your own business and could donate your time
You are a season ticket holder and would be willing to give up a game
Share our Silent Auction and Spring Fest FB Events on your social media

Maneras de ayudar

¡El festival anual de Primavera y la Subasta Silenciosa son los eventos más rentables de los cuales todas las ganancias van al PTA de nuestra escuela!

Formas en que USTED puede ayudar:

Done fondos para la canasta de su clase
Su empleador estaría dispuesto a donar un artículo, una canasta de regalo o una tarjeta de regalo
Tiene su propio negocio y le gustaría mostrar su producto/servicio a nuestra comunidad
Tienes tu propio negocio y podrías donar tu tiempo
Tiene un boleto de temporada y estaría dispuesto a renunciar a un juego
Comparte nuestro eventos del festival anual de primavera y subasta en sus redes socialas
Recaudaciones de fondos en curso
For a step by step on how to select us as your charity of choice at no extra cost to you, visit our Amazon Smile page.

Tú compras. Amazon da.

Para obtener información paso a paso sobre cómo seleccionarnos como su organización benéfica preferida sin costo adicional para usted, visite nuestra página de Amazon Smile page.
Donations are always welcome and go directly to support the programs and events our organization offers. No amount is too small. Consider making a donation today!

Donaciones siempre son bienvenidas y van directamente a apoyar los programas y eventos que ofrece nuestra organización. Ninguna cantidad es demasiado pequeña. ¡Considere hacer una donación hoy!
---
Return to Top This Week @ PTE Coming Up @ PTE
A run down of what's happening at PTE this week
---
Return to Top This Week @ PTE Coming Up @ PTE
A look ahead to what's coming up at PTE over the next few weeks
---
looking for something?
Remember reading something in one of the school updates but can't put your finger on which one or where it went in the sea of information in your inbox? Check out our archive:
---
Join our Facebook Community Group
For more information about future events, please check out our calendar or specific event pages.
Shop Online!
Spirit Wear
Memberships
Purchase spirit wear, Spring Fest tickets and more by using our Online Order Forms!
Looking for memberships or donation forms? It's just a click away at our PTEPTA online store!